Success sprouts for young Victorian mushroom grower
Something went wrong. Please try again later...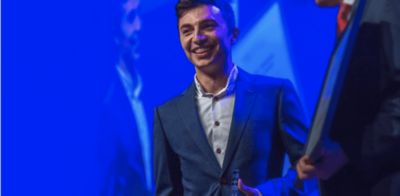 Victorian mushroom producer Chris McLoghlin of The Organic Mushroom Farm has taken out this year's prestigious AUSVEG Young Grower of the Year Award.
The award, sponsored by Corteva Agriscience™, the Agriculture Division of DowDuPont, was announced at the Gala Dinner at the 2018 Hort Connections Conference held in Brisbane on Wednesday 20th June, 2018.
Chris is the founder and director of The Organic Mushroom Farm which markets the Mycelia Organics brand of mushrooms through independent grocers and the major retailers nationally. The Farm is the largest certified organic mushroom farming company in Australia.
Mushrooms grown include: white button, cups, and field mushrooms as well as brown crimni, swiss brown cups, and portabella mushrooms.
Chris has worked in organic fresh produce and grocery supply chains and distribution, has founded online retail and hospitality businesses, and consulted for and worked in several start-ups –; both food and technology related. He has been a Director and co-Chair of the Organic Federation of Australia since Sept 2015 and a member of the Australian Organic Industry Working Group executive committee.
Nick Koch, Marketing Manager for Horticulture & Insecticides for Corteva Agriscience™ said:
"We were delighted to present Chris with the Young Grower of the Year Award for 2018. His commitment and dedication to organic farming is inspiring.  Working with his team and local community he is supplying organic mushrooms to happy customers across Australia," he said.
"Chris is a passionate advocate of organic primary production, supply chain & industry development and is a great example of a young person leading the charge for innovation which will help our next generation of growers to prosper."
"We are pleased that our industry recognises and celebrates the achievements of outstanding young growers such as Chris."
"I would also like to congratulate the nine shortlisted nominees in this category:
Andres Cruz – Butler Market Gardens – VIC
Chris Pham – Nexgen Produce – NT
Daniel Hammond – Bulmer Farms – VIC
Daniel Quattrochi – Monika's Organics – SA
Jake Shadbolt – Scotties Point Farm – VIC
Mitch East – Willarra Gold – WA
Nathan Barolli – Barolli Orchards – VIC
Olivia Ryan – McCain's – VIC
"The wide range of fruit and vegetables that these young growers are producing is just phenomenal – from baby leaf; baby broccoli; potatoes; kale; apples and pears and mushrooms."
AUSVEG, the industry representative body for the Australian vegetable and potato industries, manages the 2018 National Awards for Excellence, including the Young Grower of the Year Award.