Anthony Villella Discusses Advantages of Transform for FSB on Avocados
Something went wrong. Please try again later...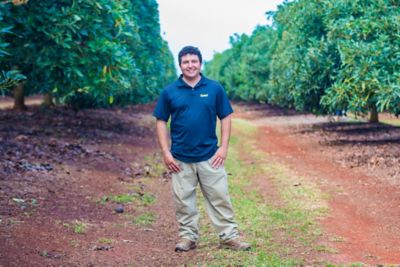 Anthony Villella is farm manager on the family owned property near Atherton in North Queensland.
They currently have 30 hectares of shepard avocado trees with plans to increase that once preparation is complete on a recently purchased second property. In common with most avocado growers, one of the biggest issues Anthony faces during the season is the challenge posed by Fruit-spotting Bugs (FSB).
Fruit-spotting bugs are the major pests of avocados grown in Queensland.  They feed on the fruit, which usually cracks, resulting in significant losses. Even when the cracks are not noticeable, fruit can have blind stings where the feeding site is almost invisible only to be discovered when the fruit is peeled. Anthony estimates that in prior years it would be common to lose 20% to 30% of the crop due to FSB damage.
"In the past we used non-selective products such Lorsban® and Lannate™ or Bulldock™" he told us "but they really hammered the beneficial insects and we had mite flaring issues."
Switching to Transform® insecticide has been a real game changer. "We followed the label recommendations and went early in the season applying four consecutive applications at 40ml/100l. After the second application we saw that we were able to gain another week and went a full three weeks before the next spray and it worked a treat. Not only did it bring the Fruit-spotting bug under control, but it left our beneficial insects in place, so we didn't have any issues with mite flares. There are also a number of flies, spiders and lacewings that are natural enemies of Fruit-spotting bug and by preserving them we help keep the bugs under control throughout the remainder of the growing cycle".
Anthony estimates that he has reduced his damaged fruit from 20-30% down to less than 5 percent since using Transform which represents a real economic benefit to the farm. He stresses that to gain the maximum benefit from the product it is essential to have your sprayer correctly set up and calibrated. "We know that our hotspots are high in the crop, so you must get the product to where the pest hide to kill them". Anthony uses a well calibrated, hydraulically adjusted fan sprayer to ensure optimal coverage.
"We started using Transform when it was first registered on Avocados a couple of years back and really couldn't be happier with the results" says Anthony, "I would highly recommend it."
Transform containing Isoclast Active from Corteva™ Agriscience is a systemic insecticide with a unique mode of action for controlling sap feeding (sucking) pests. It offers effective residual control and can be used as part of an integrated pest management (IPM) program for the control of a range of pests including fruit and banana spotting bugs.